My radio goes off every morning blasting stories from NPR [
National Public Radio
]. I lay in bed for the next 30 to 45 minutes stretching, wiping my eyes open [well that part only takes 2 of the 30 minutes] and getting my daily dose of concentrated [albit balmy] morning news. NPR isn't exactly the AP real time news feed because they put their stories in rotation all day so if anyone listens to them they'll never actually miss a story. I've also discovered new recording artists like
Aaron Parks
by listening to them. Much like blogging they have daily themes. To name a few: All Things Considered, Geo Quiz, The Treatment and The Business. When I was employed, NPR was one of the public services to which I annually contributed. So cheers to you NPR! One day I'll, again, be able to make a contribution during your bi-annual pledge drive. :-(
Also Sesame Street is 40 years old today and our fabulous first lady
Mrs. Michelle Obama
is going to appear to help them celebrate.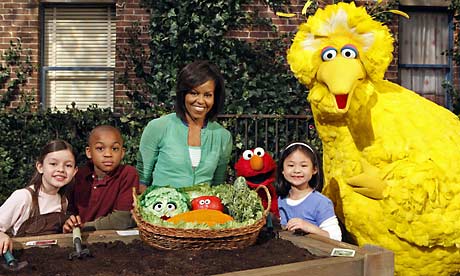 Who doesn't love Sesame Street? BTW, it was a story NPR that reminded me that SS was turning 40 today. The Tony awards already honored SS earlier this year. So to me both deserve our toast today, so cheers to you too Sesame Street!
Although the clip above doesn't show it, I'll always love the classic counting songs i.e., "three, three,three,three let's sing a song about three, how many is threeeeee?" Okay stop laughing at me, you know you like those songs too. 'Nuf said.
Cheers! Happy Tuesday.