Well I'm leaving my comfort zone by trying my hand at public speaking. Well more accurately, honing my public speaking skills. Okay most accurately, practicing speaking in front of a bunch of strangers and seeing if I like it enough to see if I have actually have a skill and then honing it.
One of the suggestions to stroke survivors right before they release you from the hospital is to learn a new skill. Any new skill. Speech class was one suggestion that I promptly scratched off photo copied list of things to do post stroke. However fear being irrational and all, [F=false, E=evidence, A=appearing, R=real] what did your girl do? I jumped right into the deep end of my fear and walked pridefully into my first ever
Toastmasters
club meeting with zero expectations. For those who are unfamiliar with the organization, read all about Toastmasters International
here
.
Okay I'll save you the suspense. I'm not on the heals of Tony Robbins or anything but it's monumentally important to become an effective communicator in life right? I avoided speech class all through college due to my (yes, I own it) fear. So after avoiding it for about [
clearing my throat
] years I've finally/recently made my way out to my very first
Toastmasters
meeting. And although I am fluent in English, feel that I've mastered the language, and am a rather self expressed writer, I managed to mangle my first attempt on a subject that I know better than anyone else on the planet... ME. Hysterical right?
I'm certain that there were a few folks in the club who felt my pain and rather than referring to self deprecating humor to cover myself (as I would normally do), I just caved by thanking everyone for allowing me to speak and simply sat down. [Cue the cartoon dejected sound here...wamp, wamp, waaaamp]. After which I received thunderous applause. Really?? Applause?? A technique they use to encourage everyone to continue attending the meetings - obviously. The support for everyone who attended was lovely and there were varying degrees of experience in the room as several members admitted to English being their second and in some cases third language. The club meeting was a healthy mix of award winning speakers, amateurs and guests. The atmosphere was non threatening and critiques for every speaker were full of encouragement. Because everyone starts where they start, the more you have an opportunity to speak the better at it you get. Duh, like anything else.
I don't know what happened I looked into everyone's eyes as what I was saying was obviously engaging because I had their undivided attention and noticed no one looking at the walls, the floor or their nails. They all looking right into my eyes and some smiled. That freaked me out! I'll repeat for the first time in my life I was speaking and had the undivided attention of everyone in the room. Once I realized THAT, I panicked, my self talk which happened in seconds went a little something like this, "What the hell are you talking about and why would anyone be interested? Remember there is someone counting Um's and Ah's" and my mind went blank mid sentence. Turn to your neighbor and say "Jiminy is in the building." Well Jiminy was Pinocchio's
wise
sidekick so more accurately the "cricket sound" is what happened. Let me recap there is a person designated to time your speaking (equipped with green, yellow and red flags to indicate how much time you have left to wrap it up) and another person to count how many times you vocalize your [what I call] ticks. Ticks are one's "Uhh, Ahhh, Um" during speech. How can anyone even introduce themselves with that kind of pressure? Thus the purpose of the 86 year strong organization to help people speak without flaw and to introduce speaking mastery techniques.
The first round of speeches which they call table topics was: What type of music do you listen to while you're either driving, cooking or when you have company over. In my mind I said score!" Easy peasy. Well I stood up after being called upon and started to wing it. I chose to speak about my driving music. What I realized was having something prepared would probably have been better. Of course defeating the winging it skill test. That first time out the box, winging it ain't for me just yet. I'll sum up my self critique by showing you these photos...
#1 Mushmouse... still no clue? Do ya'll remember Mushmouse and Pumpkin puss? Yes, I'm dating myself but whatever. How about this one...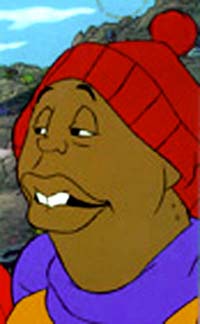 #2 Mushmouth - Whaaba weeba gonna dooba?
Okay that's a gross exaggeration to make light of the situation. I didn't actually flub my words, nor did I uh, um or ah, I just forgot them. I went blank
mid sentence
. Thank the lord of hosts that TMZ has no interest in my life what-so-ever. The good news is I'll be back next week, maybe with something prepared or maybe off the cuff again. Either way - much work to be done. Plus I had fun. Cheers!