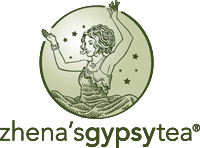 During my outings I happened to meet a representative of
Zhena's Gypsy Tea
, manufactured right here in sunny California. Click on their name to read more about Zhena.
My introduction to Zhena was their
Coconut Chai
flavor which I understand is their most popular tea. And I'll tell you why. It is what I'll call heaven in a clear glass mug. But before I dive into
that
explanation, let me tell you how they categorize their tea. First, I'll share their wonderful log line is that Zhena's Gypsy Tea is 'The Original Spirit of Tea.' And I believe that is because they are environmentally conscious and are committed to using all natural ingredients. Read more
here
about their process and awards. Second, their categories are
Black
,
Green
,
Herbal
,
White
,
Chai
and
Oolong
.
Okay, heaven in a clear glass mug, aka
Coconut Chai
which is from their
Black
tea category. Why a clear glass mug? Well the nerd in me [who has done this for years] likes to watch the satchel hit the steeping hot water while the herbs loosen the color and flavors into the water. You can watch this happen in an opaque mug from the top but the affect is not the same. And then I stir it a bit and put my nose over the brew and a symphony of delight hits my brain inspiring me to sip slowly adding nothing (sugar, honey, agave, milk) - nothing. My logic is if the tea is delicious without altering it, it is worth discussing. But I digress.
Coconut Chai
is a bitter sweet delight. The package smells like coconut macaroons. The blend of Indian black tea, organic cinnamon, ginger,
cardamom
, cloves, orange peels, nutmeg, black pepper are the bitter portion. The sweet portion is the organic cinnamon essential oil and the organic coconut flavor and chunks
.

BTW these ingredients are listed on their website so I'm not divulging any secrets.

When all flavors are combined the bittersweet result is lovely on the pallet and I didn't miss adding sweetener. But keep in mind that I'm a recovering sugar addict. Although adding sweetener to this tea is certainly not out of the question in my opinion it is not always necessary to enjoy the experience. Coconut Chai stands boldly on it's own. I get why this is Zhena's Gypsy Tea's most popular flavor.
And just look at the tea satchels. They are beautifully made from biodegradable,
GMO
free corn silk. A pleasure for the eye as well as the pallet.
The other two flavors that I've tried are the

Bed & Breakfast Black tea

and the

Peach Blossom Oolong Tea. Bed & Breakfast

, what I had this morning, is a blend of gourmet Black teas. The package smells like spicy licorice [a scent that I love]. I added one table spoon of French deluxe vanilla powder to it while leaving the bag in the mug to stew a bit more and yum. This tea with a few vegetable crackers made for a nice quick breakfast leaving me not wanting anything more to eat. The perfect start my my day.

Yesterday I had the

Peach Blossom

Oolong

. The package smells like peach sorbet. This tea has a great flavor mixture of Black teas and peach. It was a stronger experience for me. I liken Oolong tea compared to the others types of tea as the difference between dark and milk chocolate.

It's all good :-)

. After a few minutes of stewing this was enough to capture the full bodied Oolong and the

peach surprise

. My opinion is if this flavor stews too long this may be overwhelming as it is quite robust. Because I enjoyed the

peach surprise

I won't make the mistake of over brewing a second time. If your pallet prefers strong flavors this tea is definitely for you. Oolong flavor is more akin to Green Tea than Black tea and the peach is the perfect compliment to the Oolong. I had this tea in the evening after dinner and it satisfied me. A few final notes about Oolong is that it is very beneficial. It is known to help control obesity, and is a good source of oxidation. Oolong is considered an honorary tea in Japan and has been enjoyed by tea connoisseurs in China.

I have several other teas to enjoy and I'm excited to let you know all about them because so far

Zhena's Gypsy Tea

is genius from their attention to detail in their

research

and beautiful packaging, to the unique blends, to their

Fair Trade practices

.

[Disclosure: I was invited to review this product by the manufacturer. All images courtesy of

www.gypsytea.com

]