[Long post alert. Although I wish I have no fiduciary relationship with Trader Joe's. I'm just a fan.]
All week it will be raining in Sunny California. And on these days I like to eat healthy comfort food. PB & J will always be comfort food number one. However for the more sophisticated pallet I have compiled some of my favorite healthy alternatives. On rainy days I can be found in a Trader Joe's piling my basket up as if the rain will never end and grocery stores will run out of food. That may be why I have about 50 eco-tote bags in my car. It's a quirk of mine, don't ask. Just read...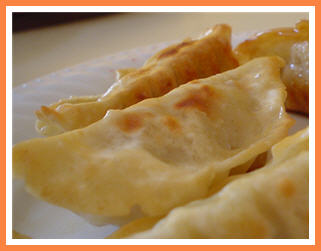 It is always preferable to purchase raw organic food and cook/serve to your liking but on lazy days if you know what to buy, the frozen prepackaged isles are just fine.
Now these chicken potstickers are fantastic because if you don't care to cook or chop every single day, or if you are under the weather, they are frozen and you can take out as many or as little as you want for lunch, dinner or entertaining friends. I like to put them covered in a pan with 4 tables spoons of EVOO [extra virgin olive oil] and about 1.5 to 2 table spoons of water for 5 minutes until tender or keep in a little longer to have the dumpling get a little crunchy if you prefer that texture.
This is my all time favorite frozen rice. It's got the perfect blend of curry, raisins, peas, peppers and onions to give it a sweet and salty taste at the same time. Ever so subtle on the sweet side due to the raisins. The curry makes your kitchen smell delectable to the point of people knocking on your door to ask what in the world you're cooking. Seriously this happens.
The carrot ginger soup is delicious if you can imagine a carrot puree flavored with fresh ginger juice you have aroma, texture and health benefit. I haven't tried the black bean soup but I guess it's delicious too. I like to bring the soup to a low boil, place the frozen chicken potstickers into it with some fresh vegetables and after
about 10 minutes you have a great soup or a treat to pour over steamed rice [basmati or brown].
I then toast a few slices of this bread to a medium brown and butter it with REAL unsalted butter or organic cold pressed coconut oil. Never margarine. Wheat free gluten free bread is pricey about $6.00 per loaf and it is usually in the freezer section for preservation because it tends to mold quickly. If you purchase it make sure you love bread because you must eat it fast [i.e. every day] or else you've just thrown $6.00 into the trash. So freeze it because it molds in warmer temperatures [the refrigerator]. How pissed off was I to have discovered that. This should be treated like
Ezekiel bread
because it is considered 'live food.'
Gluten-Free High-Fiber Multi-Grain Bread:
A healthy and delicious high-fiber multi-grain bread, with great taste and texture, that is also dairy-free
This gluten-free recipe yields a wonderfully soft and delicious yeast bread with a mild flavor and lots of fiber. It uses a combination of gluten-free grains including Teff, Millet and Flaxseed, plus Inulin (ground chicory root extract variety) to achieve amazing levels of fiber in gluten-free bread, while maintaining great taste and texture.

Inulins are a group of naturally occurring oligosaccharides (linked simple sugars) that have useful nutritional characteristics like: high-fiber, low calorie, minimal blood-sugar impact, and healthy intestinal bacteria promotion. In this recipe, we use Inulin powder (Chicory Root variety) which is somewhat easy to find at places like Trader Joes.

Fiber Content Contribution by Ingredient

Inulin: 24g
Millet: 6g
Teff: 4g
Flax: 8g
Xanthan Gum: 12g

TOTAL: 54g Fiber per loaf
or, nearly 3g per 1/2" slice
This is as high, or higher, than many commercial whole grain breads like Brownberry Classics Oat/Nut whole grain, and many other whole-grain wheat breads, all while being gluten-free!
Who doesn't love waffles? Imagine eating all of the waffles you want without the guilt.
Nutrition Facts


Serving Size: 2 waffles
---

Amount per Serving


---

Calories

210

Calories from Fat 70


---

% Daily Value *


Total Fat 8g



12%

Saturated Fat 0.5g

2%

Trans Fat 0g


Cholesterol

0mg

0%


Sodium

430mg

18%


Total Carbohydrate

32g

11%

Dietary Fiber 1g

4%

Sugars 5g


Protein

1

2%


---
---
Est. Percent of Calories from:



Fat 34.3% Carbs 61.0%

Protein 1.9%




And then step away from Mrs. Butterworth syrup and get yourself some Agave Nectar to pour over your stack.
And to dessert try these apple blossoms ... with a scoop of vanilla ice cream, or rice dream or yogurt over it . Or alone with no topping at all.
What is it that makes warm apples, cinnamon, and pastry taste so good? It is really hard to mess that combination up. This product lived up to the flavor reputation.
Wow. Appleicious goodness, flaky pastry and completely perfect in less than a minute in the microwave, these
Trader Joe's Apple Blossoms
are the real deal. And at under 2 bucks for 2 blossoms, these are the right price too

.
And there you have it a complete healthy meal from the freezer section.